The No Nonsense Magazine
A subscription to No Nonsense. This glossy print publication will be mailed directly to your home 4 times a year.
In a few short weeks, you'll see your first No Nonsense Magazine delivered right to your door. Via email you will receive insider special offers on all of our fat loss and muscle building supplements.
The No Nonsense Magazine is a publication filled with REAL-WORLD information and articles on nutrition, training, contest preparation, health and more. Beverly's No Nonsense Magazine is for any person with a sincere desire to improve their fitness, form and physical health.
https://beverlyinternational.com/subscribe/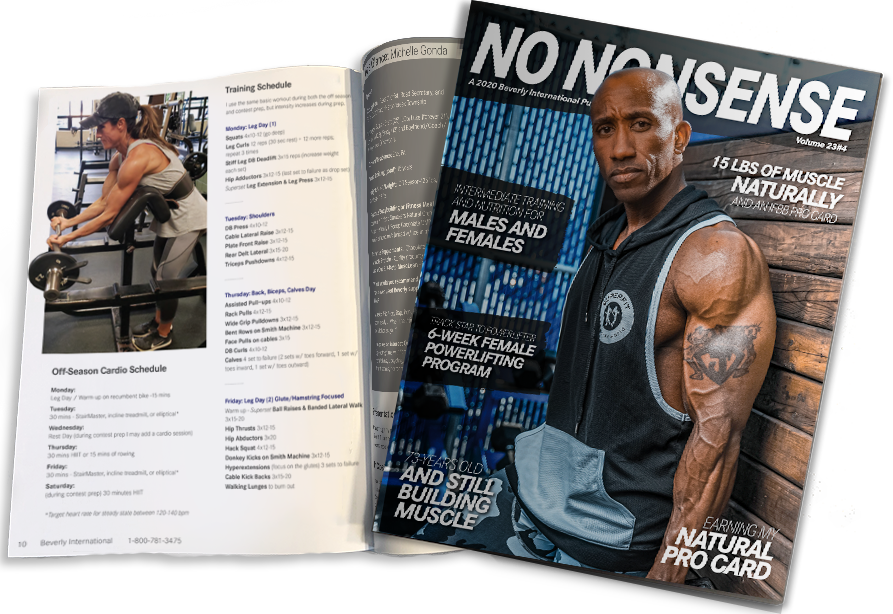 For those who wonder about writing a story for NNM, it's simple. Remember, I may not be in contact with you so I have no way to know how to connect. It's really up to you!!! All you have to do is contact me. Sandyr@beverlyinternational.net – I already have an outline ready to send you. When you first reach out, please send me a photo and tell me the BI supplements you use. Why, you ask?
We do stay true to our roots. Integrity guides the ship. All of our authors use more than one BI product and they share real life details. We are not enhancing their workouts, diets and or supplement schedules. We simply publish what real people, just like you are doing to achieve their results. The outline for writing an article is easy to follow.
For most, your journals will do the work for you. You already log your workouts, diet and supplements, that's half the story! So, come on, what are you waiting for!! I want to connect with you! Make it a "personal goal" to get in the mix!!!
~Sandy