Use This HIGH-POTENCY STACK to Produce Unprecedented Gains in Muscle Size
Help is here

Maybe you just started working out and want to hit the ground running. Or, perhaps you've been training for years and are struggling to break out of a "plateau". In either case, help is here.
We guarantee that your muscles will increase in size, strength, and overall performance, faster, when you stack the combination of supplements revealed below. As usual, you'll encounter no marketing non-sense, only high-potency products proven over years of real-world use.
The Beverly Muscle Size Stack for Men
We all know that lifting weights can increase muscle size. Each exercise you perform in the gym stresses your muscles from a different "angle". This is why the best results come from a routine consisting of several exercises for each muscle group.
Supplements work in a similar fashion. The best results come from a regimen consisting of several supplements, each one care-fully selected to stimulate your muscles from a different "angle", or through what scientists would describe as different "mechanisms of action". Case in point: The Beverly Muscle Size Stack for Men. Below, we talk about each supplement in this stack.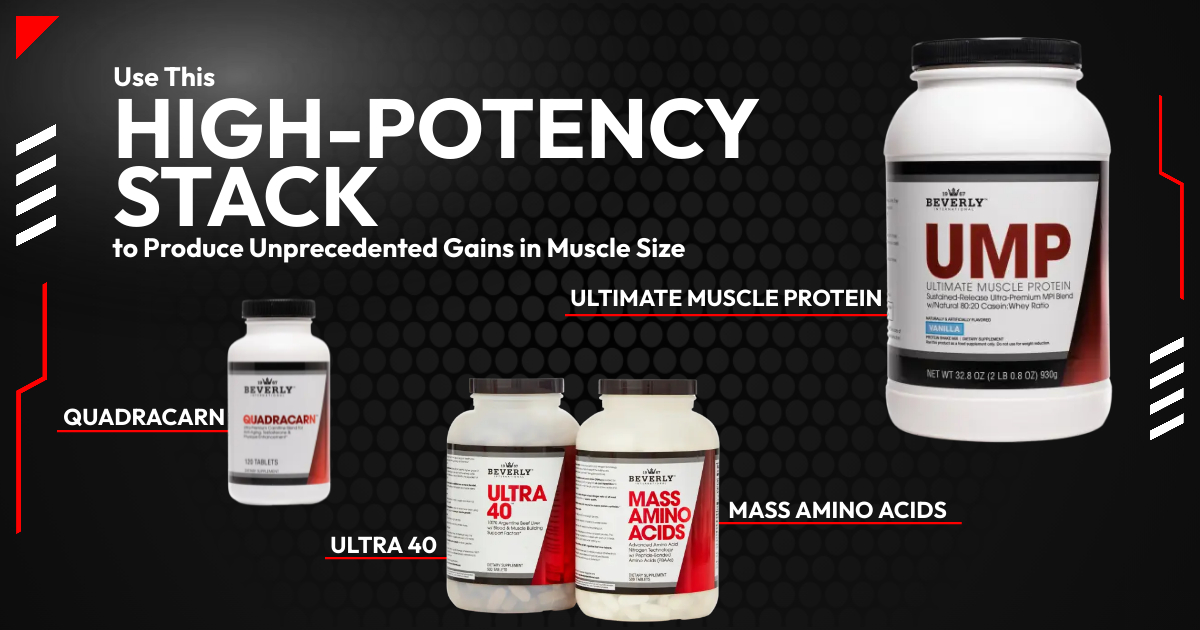 1: Ultimate Muscle Protein (UMP)
To increase the size of your muscles, you've got to work them hard in the gym and then feed them high-quality protein throughout the rest of the day. That's why protein supplements like UMP, Muscle Provider, and Provosysn (the latter two are discussed below) are a "must have" in the Muscle Size Stack for Men.
Amino acids are the building blocks of protein, and protein is a key building block of muscle tissue. Drinking a shake made with UMP is a simple, delicious way to supply your body with ample doses of all of the amino acids that it requires to build muscle as quickly as possible.
UMP contains more in the way of "slow-release" proteins than other protein supplements. This makes it especially useful as a meal alternative in the morning, afternoon, or before bed. UMP's proteins will supply your muscles with amino acids for several hours so that they can continue building without interruption until the next meal arrives. The fewer interruptions, the faster your muscles will increase in size.
Drinking a UMP protein shake is like having dessert.
2: Ultra 40
Ultra 40 is a highly concentrated beef liver tablet. It is naturally rich in nutrients and growth factors that support healthy iron levels, red blood cells, muscle building, energy, and stamina.
Bodybuilding "gurus" of the 1950s and 1960s such as Vince Gironda and Rheo Blair compared the profound physique and performance enhancing effects of liver tablets to steroids -minus the side effects, of course. They recommended that their clients consume up to 100 or more tablets daily. (Keep in mind that these liver formulations were less concentrated than Ultra 40; 25 Ultra 40 tabs are equivalent to 100 of the old school tabs.)
Ultra 40 uses the highest grade of liver obtained from grass-fed, pesticide- and hormone-free cattle raised in Argentina. The facilities in which the cattle are raised are inspected by SENASA, the Argentinean equivalent of the FDA.
Ultra 40 is popular with elite bodybuilders, some of whom have been using it for decades to maximize muscle size and performance.
3: Mass Amino Acids
Mass Amino Acids is an amino acid nitrogen technology with an ingredient profile unlike anything else on the market. It is principally used to increase muscle size and speed up recovery from workouts.
The most distinguishing ingredient in the Mass Amino Acids formula is a partial hydrolysate of casein. This ingredient, which can cost twice as much as a whey protein hydrolysate, packs up to 500% more amino acid nitrogen than other products.
The partial hydrolysate of casein in Mass Amino Acids is rich in peptide-bonded amino acids (PBAAs). Studies suggest that PBAAs are absorbed rapidly and possess up to double the anabolic potency of regular food This may explain why some users of Mass Amino Acids report that they are able to gain muscle mass while cutting (losing body fat).
Users who combine Mass Amino Acids and Ultra 40 commonly gain several pounds of lean muscle mass in 6-8 weeks.
4: Quadracarn (Essential for men 35 years of age and older)
Quadracarn is an ideal carnitine formula for men 35 years of age and older in search of all-around health and performance enhancement.
Distinguished by its four types of carnitine, Quadracarn is most frequently used to help:

boost muscle energy & stamina
boost testosterone & muscle anabolism
quicken recovery from workouts
enhance muscle tone, definition and fullness
support healthy blood sugar control
support healthy circulation
enhance sexual potency
https://beverlyinternational.com/posted_articles/use-this-high-potency-stack-to-produce-unprecedented-gains-in-muscle-size/